Correction: Follow-up Research Revises Dates published in "Rediscovery of Nazi Negatives" (Image. Volume 38, Nos. 1-2, 1995)



In the above cited article written in 1995, I reasoned that a collection of 802 35mm negatives was by an unidentified NAZI photographer - possibly an associate of the Heinrich Hoffmann firm - documenting activities at the 1934 Nuremberg Parteitag Rally. The basis for the date was the appearance in several frames of Leni Riefenstahl supervising cinematographers. I assumed that the filming was for Triumph des Willens which was filmed at the 1934 Nuremberg Rally. Further research shows that my assumption was incorrect.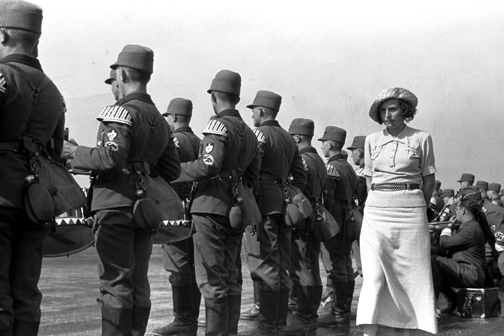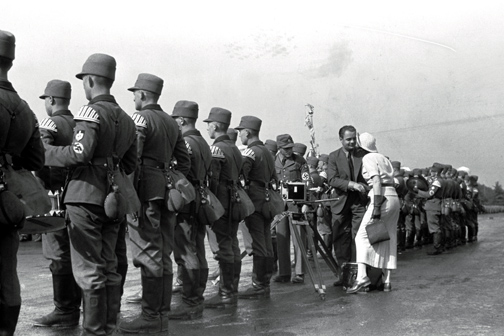 What I didn't know in 1995 was that Riefenstahl returned to Nuremberg in September 1935 to do additional filming at the subsequent annual Parteitag Rally. Triumph des Willens had been an instant success, but Riefenstahl was pressured to create a follow-on film which would give greater prominence to the Wehrmacht (the German Army). German rearmament had gained momentum following Hitler's renunciation of the Versailles Treaty in March 1935. By September 1935 the military was much more impressively represented in Nuremberg than it had been at the previous Parteitag Rally.
The 28 minute film that resulted from her filming at the1935 Rally was called Tag der Freiheit - Unsere Wehrmacht - Nürnberg 1935 and is considered one of Riefenstahl's four propaganda masterpieces of the 1930s. Riefenstahl makes no mention of Tag der Freiheit in her lengthy 1987 memoirs, and the film was long thought to have been lost. David Culbert provides a fascinating account of its recent reconstruction from pieces previously separated in East & West German film archives in his 1992 article "Leni Riefenstahl's 'Tag der Freiheit': the 1935 Nazi Party Rally film" (Historical Journal of Film, Radio and Television, Vol. 12, No. 1. pg 3-40).
Thus, Riefenstahl's appearance supervising camera operators could imply either 1934 or 1935.

A second research breakthrough was based on an extreme enlargement of another photograph from the collection (79:4261:0537). The central subject of an otherwise undramatic photograph of uniformed Nazis casually resting among haphazardly parked cabriolets is a man selling newspapers. He is wearing a hat with a hatband identifying his employer as Fränkischer Kurier. The paper he extends to a potential customer is almost square to the camera.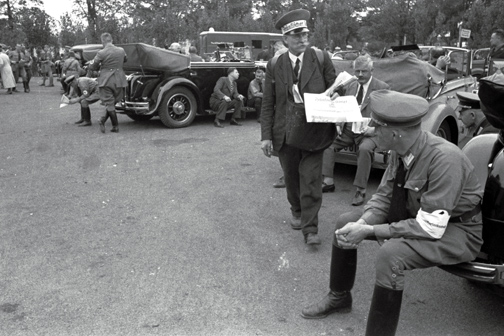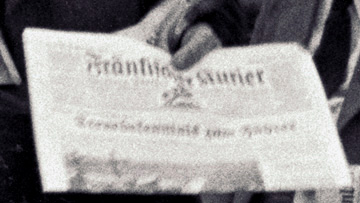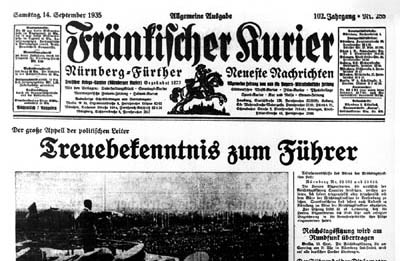 At maximum photographic enlargement (above center), the title of the newspaper is barely legible as Fränkischer Kurier. The size of the headline and its position relative to a large illustration are barely discernable. This enlargement was sent to the Institut für Zeitungsforschung in Dortmund requesting that they try to match this front page to a newpaper printed during one of the Parteitag rallies which took place for a week each September in Nuremberg in the 1930s. Shortly after the publication of my article in Image, we received from Dortmund a convincing photocopy of the front page in question (above right). Its date: Saturday, September 14, 1935. The front page is devoted entirely to reporting on the speeches and events of the Parteitag Rally.




Although Culbert's article on Riefenstahl's return to Nuremburg in 1935 to film Tag der Freiheit describes the larger demonstration of the Wehrmacht, the 802 images in the GEH collection do not include such evidence. Could the unidentified photographer of the GEH material have lacked access or interest in the military exhibits? Or, might images of the Army and its new equipment have been removed from this collection by editors, or perhaps even owners of the negatives prior to their arrival at GEH?

We conclude that the 802 NAZI negatives at GEH are probably all from 1935. They are clearly an incomplete record, constituting either 'out-takes' (discarded by the photographer who took them) or the surviving fragments left over after passing thru various hands on their way from Germany to Rochester.

Bibliography

Culbert, David. Historical Journal of Film, Radio and Television. Leni Riefenstahl's "Tag Der Freiheit": the 1935 Nazi Party Rally Film. Vol 12, No 1, pg. 3-40.





Andrew Eskind - 1998